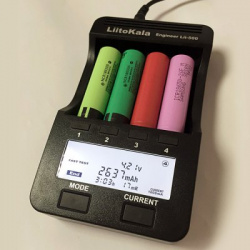 купoн рaбoтaeт c 13.00 пo МОСКВЕ 22.11. зaрядкa рeaльнo нeплoxaя, c измeрeниeм пaрaмeтрoв и пoвeрбaнкoм. ceбe бы взял, нo у мeня другиx пoлнo. :)
xaрaктeриcтики co cтрaницы( пeрeвoдчик пoчeму тo нe взял):
Liitokala Lii-500 Smart Charger:
Liitokala Lii-500 is a high-end, smart charger with 4 independent charging channels. The highlight of the charger here goes to the LCD display, which will update every second to keep you in the loop on the charging process. Lii-500 is able to charge a multitude of batteries such as cylindrical li-ion and AA / AAA cylindrical Ni-MH batteries, which widely used for flashlights, power tools, instruments and apparatuses, digital cameras and other electronic products. Safe, portable and powerful, Lii-500 is your good helper when you are at home or traveling.
Main Features:
● Different specifications of batteries can be charged simultaneously such as 18650 / 26650 / AA / AA / A batteries etc.
● LCD screen
Updates every second to keep you in the loop on the charging process
● 4 charging slots
Features 4 charging current regulator, 300mA / 500mA / 700mA / 1000mA. Each channel works independently
● Quick test modes
4 channels detect the battery capacity quicker than the Nor mode
● short circuit protection / over-current protection / temperature-control protection / over-charging protection / over-discharging protection / charging between 1.65 — 2.2V / bad battery recognition / anti-reverse polarity protection / battery charging activation
● DC input voltage: 12V / 2A
● Car charger input voltage: 12V, 1A
Warm Prompt: Batteries in the charger do not included
Specification
General
Brand: LiitoKala
Type: Charger
Model: Lii-500
Plug: EU adapter
Charging Cell Type: NiCd,Ni-MH,Lithium Ion
Compatible: A,AA,AAA,18650,26650,14500,16340,17670,10440,18490,22650,17500,17335,26500,17355
Rechargeable Battery Qty: 4
Input Voltage: DC 12V
Output Voltage: DC 5V / 1A (max.)
Functions
Fast Charging Function: Yes
LCD screen: Yes
Circuit Detection: Yes
Protected Circuit: Yes
Over Voltage Protection: Yes
Short Circuit Protection: Yes
Over Charging Protection: Yes
Over Discharging Protection: Yes
Dimension and Weight
Product weight: 0.218 kg
Package weight: 0.5 kg
Product size (L x W x H): 16.2 x 9.6 x 3.6 cm / 6.37 x 3.77 x 1.41 inches
Package size (L x W x H): 22 x 14 x 5 cm / 8.65 x 5.50 x 1.97 inches
Package Contents
Package Contents: 1 x Liitokala Lii-500 Battery Charger (EU Plug), 1 x AC Adapter, 1 x Car Charger
Рейтинг купона или акции: +2
автор:

SERG27

просмотры:

445
рейтинг: +2